About Noname
What's Noname?

Noname's like the classic "asteroids" game, but without the asteroids and with all kinds of ships. It can be played against the computer and/or against upto four human players (on the same computer, keyboard only for now).

Why is it called Noname?

Because I couldn't think of a good name, I made up this temporary name. As soon as I think of a better one, the name changes. If you've got any idea, please tell me.

What's should be improved?

Rightnow, the game can be pretty slow (>20 ships on <Pentium), but the worst thing is: it's 320x200! The game should be in at least 640x480 so you won't collide with everybody every second. Finally: there aren't any sound effects or music.

Can I download Noname?

Yes. You can even choose between two different versions (Protected mode version recommended). Choose one here:
| | | | |
| --- | --- | --- | --- |
| noname_p.exe | 279kb | NONAME version 0.999.321 beta full version (new win32 installation) | protected mode |
| noname_r.exe | 196kb | NONAME version 0.999.318R beta full version (old DOS-install) | real mode |
Screenshots
Of course you should see it all moving, 'cause you don't see the bullets and stuff on a static shot (looks just like the stars on the background). But here they are: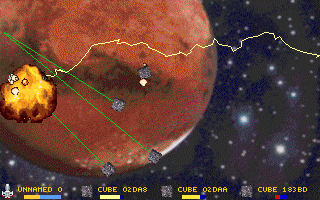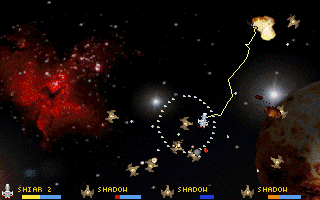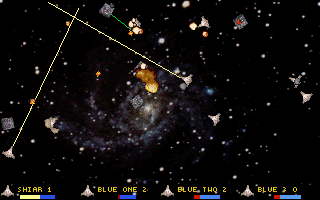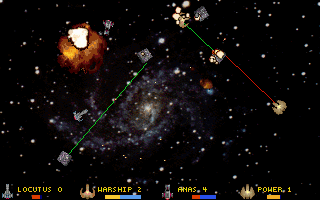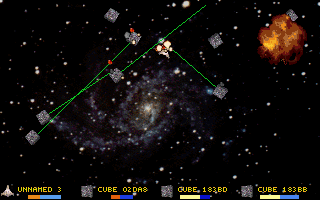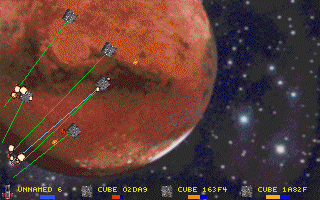 Version changes
Some version changes from version 0.99 to 0.999 beta:
Large explosions are shown correcly!
Font, sprites and pictures are stored inside the .EXE file. So instead of eight files, you only need three.
Huge explosions! (64x64 pixels)
Title screen with ships moving over it, and four help/credit screens.
End statistics display first eight ships (more wouldn't fit) and displayed on space background.
256 Internal directions (very accurate)! Still 32 external directions.
AI support acceptable group-attack (multiple ships of the same team).
Ships come through subspace portals instead of appearing out of thin air/space.
Restart removes all explosions and ships, and resets level correctly and completely.
No more runtime error #210.
Static discharge weapon!
Secondary weapon recharge bug fixed.
Really a lot more bug fixes and small improvements.
And... game in protected mode!! No more memory errors with 64MB free!!